News
new TRAINWRECK dates!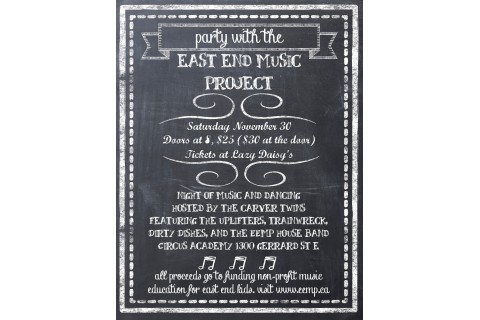 TRAINWRECK headlines an amazing line-up on Nov 30th, all to raise money for the EEMP: East End Music Project.

What is EEMP? a non-profit music school serving kids grades K-12 in Toronto's East End. All proceeds go to funding subsidized music education for kids — including lessons, instruments, and performance opportunities.

What is TRAINWRECK? One of Toronto's hottest new party bands, TW is fronted by Rick Miller and features a talented ensemble of Toronto musicians who play pretty much anything to shake the house down. From Elvis (Presley) to Elvis (Costello), from ABBA to ZAPPA, we aim to delight and surprise with every song we play. A guaranteed 'wrecking' good time!

Who else is playing? The event is hosted by the Carver Twins, and also features The Uplifters, Dirty Dishes and The EEMP House band.

Details: Saturday, Nov 30. Doors at 8pm, $25 ($30 at the door). Circus Academy, 1300 Gerrard St E. Tix available at Lazy Daisy's cafe, corner Gerrard and Coxwell, or contact rick@rickmiller.ca.

IF YOU CAN'T JOIN US NOV 30th, THEN COME GET WRECKED ON:
Dec 13th, 2013. VENUS IN FUR post-show Block Party! After getting smacked around onstage by Carly Street, TRAINWRECK will keep the party going at CanStage's Berkeley Street Theatre. Tickets TBA, free for VENUS IN FUR ticket holders.
Dec 31st, 2013. 'Wreck' in the New Year with TRAINWRECK at the historic Linsmore, our favourite local venue. More info TBA.
http://ls4.co/58P
<< Back to news